May

30
Tags
Related Posts
Share This
ZombieSmash 1.0.5 (Android)
Overview : ZombieSmash! is a "Survival Comedy" game, featuring undead-themed castle defense and entertaining, physics-based gameplay. The game casts players as Joey, a lone survivor pit against a herd of writhing, unrelenting zombies – to defeat the undead masses, players must use their fingers to flick and smash them until they're un-undead.
Requirements : Android 2.1+
Test your survival skills while teaming up with unlikely allies in ZombieSmash !
• To aid players in their fight, over 30 specials and upgrades allow for creative zombie demolition – including fun implements like asteroids, wrecking balls, liquid nitrogen and a gigantic, rolling boulder – combine specials (for instance, smash nitrogen-frozen zombies with a boulder!) for added hilarity.
• Sophisticated ragdoll physics produce unique and hysterical zombie deaths, and the proprietary SplatterEngine™ renders adorable cartoon blood and gore in a convincing and entertaining fashion.
• Four game modes provide limitless replay value:
o Campaign Mode challenges players to survive for over 31 intense days against the mounting zombie threat and another 30 nights in the NEW CAMP NOWHERE campaign.
o Endless Siege Mode confronts them with a never-ending zombie assault – hold out as long as possible, racking up an ever-rising body count.
o Sandbox Mode gives you all the tools to rain destruction down on those stinking, moaning zombies without any of the peril.
o Bonus Nights Mode : Smash and destroy zombies in new ways! Unlock this special mode through extended gameplay and using your braaains!
• Original soundtrack produced by famed game music composer Chris Hülsbeck, the talented musician behind the scores to classic games like Turrican, Giana Sisters and the Star Wars: Rogue Squadron series.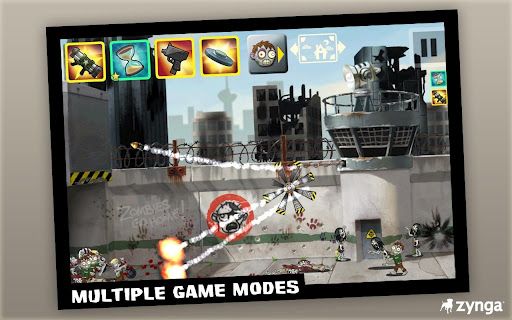 DOWNLOAD

http://bitshare.com/files/1ut7o9ew/z1.0.5.Android.zip.html
http://extabit.com/file/28dtng07vjm72